Meet Dr. Duc Huynh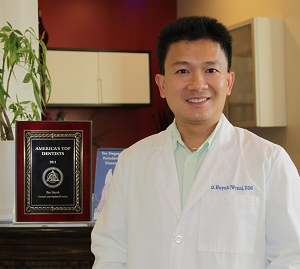 Background and Credentials
I believe strong teeth, healthy gums, and attractive smiles are origins of one's beauty and are the best qualities that everyone can possess. As a dentist, my primary goal is to provide those qualities to you. I would like to take a moment to tell you a little bit about myself and my dental practice. After completion of my undergraduate at the University of Memphis with a Bachelor of Science (BS) degree in chemistry and minors in biology and mathematics, I continued my academic career at University of Tennessee, Memphis. There, I received my Doctor of Dental Surgery (DDS) degree in 2005. I then moved to Atlanta and worked at various dental offices learning different techniques and approaches of treating and serving patients. Meanwhile, I have gained a lot of dental experience through years of practice and continuing education courses.
During my years as an associate at other offices, I had a vision of owning a dental office where patients will appreciate every aspect of dentistry. In 2009, I decided to make a career change by establishing my own office. My goal is to transform the traditional dental office visit and to create a peaceful, relaxing, and comfortable atmosphere. My commitment is to give you a healthy and beautiful smile that lasts forever!
Berkeley Lake Dental is established using my own design and decoration with up-to-date, state of the art technology. You will be relaxing and free from stress by enjoying TV shows, movies, and soothing music during the treatment. All of that, combined with the experience of our friendly staff will ensure you get the best result for your dental health possible.
At Berkeley Lake Dental, we take great pride in providing patients with a high level of professional heath care and excellent treatment. Most importantly, we want you to walk out of our office with a gorgeous smile and the utmost satisfaction. Thank you for visiting our website and we look forward to seeing you, your family members, and friends in our office.
Sincerely yours,
Dr. D. Huynh, DDS