Same Day Dental Crowns
What is a crown?
A crown is a fixed cover or cap that structurally support teeth. A crown is used to repair tooth that has been badly broken, that has root canal procedure, that is malformed or discolored or it needs a better bite. A crown can be made from a variety of material, including porcelain ceramic, metal, zirconia, or a combination of two materials.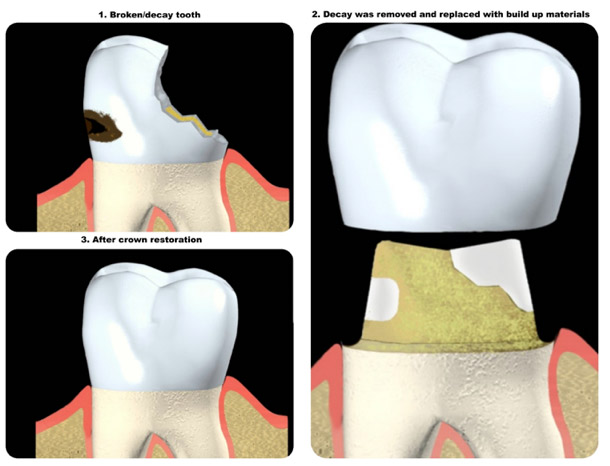 Traditionally, the crown is done in two or more visits as follow:
First visit is the Crown Preparation: your dentist will numb the tooth that needs a crown. The tooth is trimmed down to make space/room for the crown; then your dentist will make an impression of your tooth and the surrounding area. That impression will be sent to a dental lab so a crown can be manufactured to fit the exact space. Next, your dentist will make a temporary crown for you to wear.

In your second visit, at least two weeks later, you will get numb again so that your dentist can remove the temporary crown comfortably. Then, your dentist will clean out temporary cements and try-in the permanent crown. If the permanent crown has a good fit with the prepped tooth, then it is cemented/bonded onto the prepped tooth. If it does not fit, then a new impression is made and is sent to the lab again. The wait for permanent crown continues...

At Berkeley Lake Dental, we can make your permanent crown within an hour. We use advanced technology called CEREC®. The process is simple as follow:
Your tooth gets numb and gets prepped to create space.
The prepped tooth is scanned by computer-assisted design (CAD) of CEREC® System.
A permanent crown is designed and created by using CAD software of CEREC®, and it is sent to the milling machine that processes your permanent crown in an hour.
Which teeth are being replaced?
Cementing the permanent crown, which will fit exactly like it shows on computer. DONE!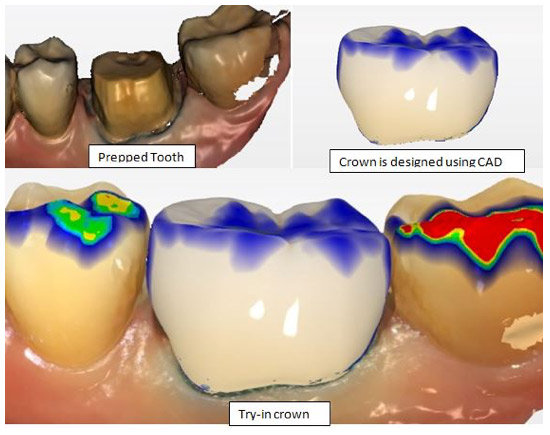 The cool thing about this is that all of the above processes are done on computer, not in your mouth. The permanent crown will fit exactly like it shows on the screen.
Benefits of SAME DAY CROWN with CEREC®
1. Restore the function of your teeth immediately
Your teeth affect your smile, how you talk and your eating patterns. If you get temporary crowns while you wait for a dental laboratory to design the permanent crowns, you will have to be very careful when eating or talking. You even have to follow a very specific diet so that the temporary crown does not fall off. This is never the case with same-day crown.

2. Prevents injury
With traditional crowns, you have to wear a temporary crown for at least two weeks. Unfortunately, this temporary crown does not always fit on your tooth and can come loose. This often causes injury or other issues. Same-day CEREC® reduces the risk of injury by giving you a crown that fits in one visit. CEREC® crowns also require less drilling, saving most of your tooth.

3. Saves you money
Appointments and temporary crowns will cost money, even with insurance. By cutting your dentist's visits by half and eliminating the need for temporary crowns, CEREC® crowns help you save money. Furthermore, for some people, fewer appointments and less time off work mean they get more opportunities to earn money.

4. Comfort
The temporary crowns you get with traditional procedures are made from resin, and they rarely ever fit. This makes them very uncomfortable. CEREC® crowns consist of ceramic and fit perfectly, making them very comfortable.

5. Preventing decay
Since temporary crowns sometimes come off, they make room for further decay of your tooth. This is never a problem with same-day CEREC® crowns.