Diagnosis And Preventives
The most successful methods of maintaining your oral health involve the use of effective daily oral hygiene (including brushing and flossing) as well as regularly scheduled professional examinations and procedures such as, routine professional teeth cleanings, fluoride treatments, sealants, oral hygiene instruction, etc. To help diagnosis of your dental health more accurate, we use state-of-the-art digital xrays, (which is very low radiation), intra oral cameras, and other forms to assist you better understand your oral conditions. After diagnosis and if we determine that you have any dental problem, we would recommend the appropriate treatment to prevent the problem from getting worse. Diagnosis is the first step to make sure you have an excellent oral health.
Dental sealant is a thin, plastic coating sealed the grooves or depressions on the chewing surfaces of posterior/back teeth to prevent development of tooth decay. The sealant quickly bonds into the grooves of the teeth, forming a protective shield over the enamel of each tooth.
Grooves on tooth surface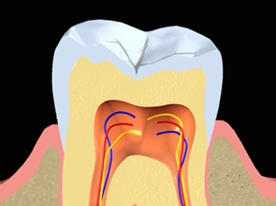 Conditioning Grooves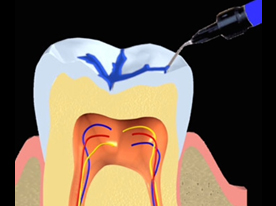 Applying Sealants